---
Beginning of Autumn 立秋


Price 售價|MOP1,800
Series 系列|AUTUMN 秋
Year 年份|2018
Material 物料|Acrylic on Wood Panel 木板丙烯
Size 尺寸|20cm x 20cm
< ON HOLD 已留 >
Limit of Heat 處暑


Price 售價|MOP1,800
Series 系列|AUTUMN 秋
Year 年份|2018
Material 物料|Acrylic on Wood Panel 木板丙烯
Size 尺寸|20cm x 20cm
< AVAILABLE 待售 >
White Dew 白露


Price 售價|MOP1,800
Series 系列|AUTUMN 秋
Year 年份|2018
Material 物料|Acrylic on Wood Panel 木板丙烯
Size 尺寸|20cm x 20cm
< SOLD 已售 >
Autumnal Equinox 秋分


Price 售價|MOP1,800
Series 系列|AUTUMN 秋
Year 年份|2018
Material 物料|Acrylic on Wood Panel 木板丙烯
Size 尺寸|20cm x 20cm
< AVAILABLE 待售 >
Cold Dew 寒露


Price 售價|MOP1,800
Series 系列|AUTUMN 秋
Year 年份|2018
Material 物料|Acrylic on Wood Panel 木板丙烯
Size 尺寸|20cm x 20cm
< AVAILABLE 待售 >
Frost's Decent 霜降


Price 售價|MOP2,400
Series 系列|AUTUMN 秋
Year 年份|2018
Material 物料|Acrylic on Wood Panel 木板丙烯
Size 尺寸|20cm x 20cm
< AVAILABLE 待售 >
What she saw in him was just a mirage.


Price 售價|MOP1,400
Series 系列|Limitation
Year 年份|2018
Material 物料|Acrylic on Wood Panel 木板丙烯
Size 尺寸|20cm x 20cm
< AVAILABLE 待售 >
Everyone has their own Wunderkammer.


Price 售價|MOP1,400
Series 系列|Limitation
Year 年份|2018
Material 物料|Acrylic on Wood Panel 木板丙烯
Size 尺寸|20cm x 20cm
< AVAILABLE 待售 >
She controls her destiny.


Price 售價|MOP1,800
Series 系列|Limitation
Year 年份|2018
Material 物料|Acrylic on Wood Panel 木板丙烯
Size 尺寸|20cm x 20cm
< AVAILABLE 待售 >
About the Exhibition 關於展覽
Q&A
▹ W - Wendy Wong 黃詠思(Curator 策展人)
▹ C - Celeste C. da Luz 李晞晴(Artist 藝術家)
---
W: Two series of works are presented in Reading Weather. Can you talk about them?

C: Both Autumn and Limitation are series of works made of acrylic with plastic scrapers on wood panels. Adopting smearing as the painting technique, I didn't deliberately leave too many brush strokes on the pieces. The colours were naturally mixed and matched with brush strokes of different directions and strengths in accordance with my state at the moment of creation. It's a healing and self-restoration process for me.

Created in 2018, Autumn is my first series of abstract works. Frankly, the works are somehow amateur when I look at them now, but they are the records of my purest and most unrestrained stage of creation. The series is also the first time I created art pieces free from the restrictions of school unlike doing homework.

Limitation was created half a year later when I had a bottleneck in the creation process and life, and I tried to recapture a more casual feeling by painting again on wood panels of 20 cm x 20 cm. Although the two series might look similar, I had a different state of mind when creating them respectively.

W:Reading Weather 展示兩個系列的作品,可以談談它們嗎?

C:《秋 AUTUMN》和《Limitation》同樣是使用丙稀和塑膠刮板在木畫板上創作的系列作品,繪畫的方式運用了塗抹技巧,沒有刻意營造太多筆觸或肌理,按著自己當刻狀態以不同的力度和方向讓色彩自然混搭出不同效果,對我個人來說像一個治癒和自我修復的過程。

《秋 AUTUMN》創作於2018年,是我第一個系列的抽象作品,坦白說現在回看作品感覺稚嫩,但卻記錄了那個最純粹、最沒拘束的創作階段,亦是我首次脱離學校「交功課」的規限,自行創作的作品。

《Limitation》是我半年後在創作過程和生活上遇到瓶頸,嘗試回到20 x 20cm木畫板上找回較隨心的感覺。兩個系列雖然看似相近,但創作時的心態真的很不一樣。

W: Do you have any preferences for the materials?

C: Improvisation and ductility are my preferences in creation. I also like to explore different materials in creation, and understand the diversity, manufacture and history of the materials as well as their application in society. For instance, I mostly use acrylic in painting, while I've also tried to use polystyrene, which has a high degree of ductility, to capture the shape of wind in installations in the past.

My creative direction is that I'm not really enthusiastic in painting or illustrating what everyone knows and expects but I'd rather focus on something everyone might not notice, think or see in their daily life.

W:在物料選材上,有甚麼喜好?

C:即興和可塑性是自己在創作上的偏好,我亦喜歡探索各類在創作上使用的物料,並了解該物料的多樣性、製造、背後的歷史和在社會上的應用。例如繪畫的顏料多用丙稀,或以往做過的裝置作品,亦曾嘗試使用可塑性很大的聚苯乙烯去捕捉風的形態。

我的創作方向是,不太熱衷於繪畫或呈現大家已知道或看得到的,反而想去做一些大家日常未必會留意到、想得到或看得到的。
W: I found that your works try to capture some emotions. Your works are named after solar terms, and weather is often used as a metaphor for a variety of subtle and abstract emotions. This is the direction I want to guide audiences to appreciate your works. How do you see the relationship between emotions and weather?

C: I'm very sensitive to the weather, which often affects my emotions. During my stay in the UK, where you could experience four seasons and the drastic changes of weather in a day, I was more aware of the impact of the weather and surroundings on my body. As it's difficult to express these subtle influences in words, I've tried to capture these feelings through abstract painting. I had a general idea before painting, and I chose the six solar terms of autumn for the works because it was autumn when I had this idea. Autumn is also my favourite season.

W:對我來說,你的作品都像是描述一些情緒狀態。你的作品以節氣命名,而「天氣」本來就被用作隱喻許多種情緒,微妙而抽象,我想以這個方向引導觀眾欣賞你的作品。你又怎樣看情感與天氣的關係?

C:自己對天氣的敏感度很高,經常會因為天氣而影響自己的情緒。在一天能經歷四季、天氣變化萬千的英國生活期間,更能讓我察覺到天氣和環境對自己身體的變化,而這些微妙的影響總是無法用言語或文字實在地去表達出來,於是便嘗試用抽象畫的方式把感覺畫出來。我在畫之前已有大概的想法,而選擇了秋天的六個節氣去創作是因為有這個想法的時候剛好是秋天(哈哈),而同時秋天也是我最喜歡的季節。

W: My first impression about your works is that they are not abstract but they rather visualise the emotions, those mixed brush strokes conjuring up the subtle feelings in a comprehensive way. I want to know why you like this approach? What's your first experience with abstract art?

C: I picked several colours based on my mood one day at the studio of my school, and then I started painting naturally after looking at the canvas. Guided by the colours, I gradually painted the picture in my mind on the canvas.

Art is all about communications. When an art piece is presented in an abstract format, this means there could be different interpretations in hopes of constructing a dialogue between the work and audiences and giving audiences a chance to contemplate. This could allow audiences not only to perceive the work in front of them but also think about their past life experiences to extend the work beyond the canvas in an imaginative way.

W:初次看到你的作品,第一印象不是抽象,反而是一種把情緒具象化的呈現,各種混雜的筆觸讓細微的情感都變得立體。想知道為甚麼你會喜歡這種形式?初接觸抽象藝術的經驗又是如何?

C:在學校工作室的某一天,按當日的心情選好了數支顏料,看着畫板,很自然便下筆了。以色彩引導,慢慢便讓腦海中的畫面在畫板上呈現。

藝術關乎於溝通,作品既以一個抽象的方式去呈現,代表可以有很多不同的解讀方式,期望能製造作品和觀眾對話、讓觀眾思考的機會,讓大家看到的不止是面前的作品,而是可能聯想到過往的生活經驗,或是天馬行空的想到畫框以外的延伸畫面。
About the Artist 關於藝術家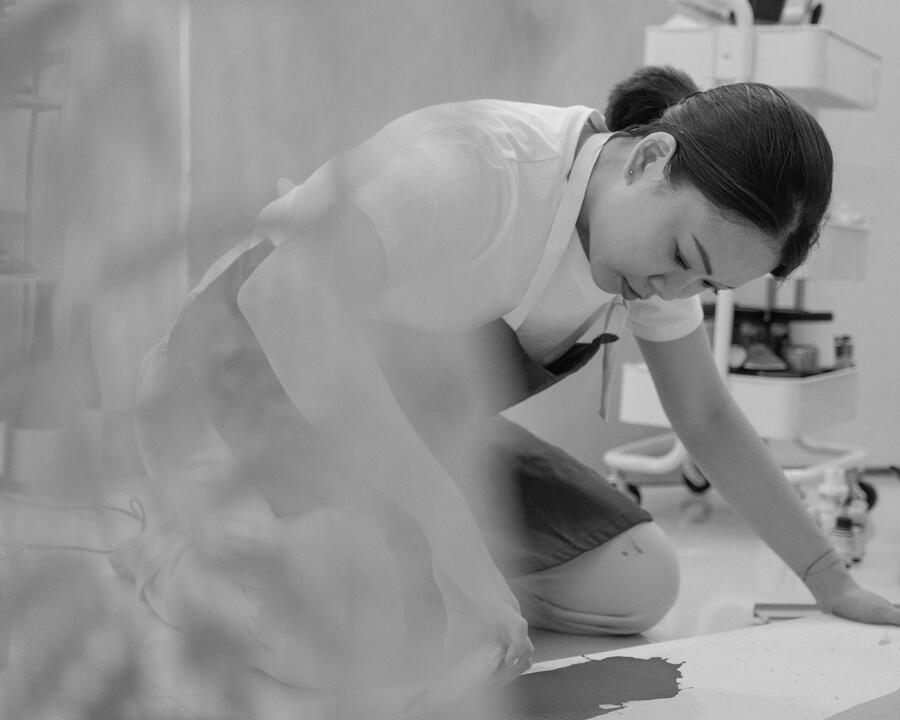 Celeste C. da Luz 李晞晴
Currently based between London and Macau. Celeste received a MA in Fine Art from the University for the Creative Arts. She is one of the selected In the Studio artists of the Mall Galleries in London, and was awarded The ESOP Newman Young Artist Scholarship from The Essential School of Painting. Following her graduation, she participated in the International Artist Residency Programme at the HOP Projects in Folkestone and presented a solo exhibition Perfectly Imperfect. Her works have been featured in group exhibitions internationally.

遊走於倫敦和澳門的藝術工作者,現居澳門。碩士畢業於英國創意藝術大學,主修美術。 在英國留學期間被獲選為倫敦Mall Galleries 「In the Studio」 的其中一名藝術家,並奪得The Essential School of Painting的青年藝術家獎學金。畢業後隨即參與英國福克斯頓HOP Projects的國際藝術家駐場計劃和舉辦了個人成果展覽 《完美在於不完美》。她的作品曾在英國和澳門多個藝術機構展出。
FOR MORE INFO 更多資訊|www.celestecdaluz.com
About the Curator 關於策展人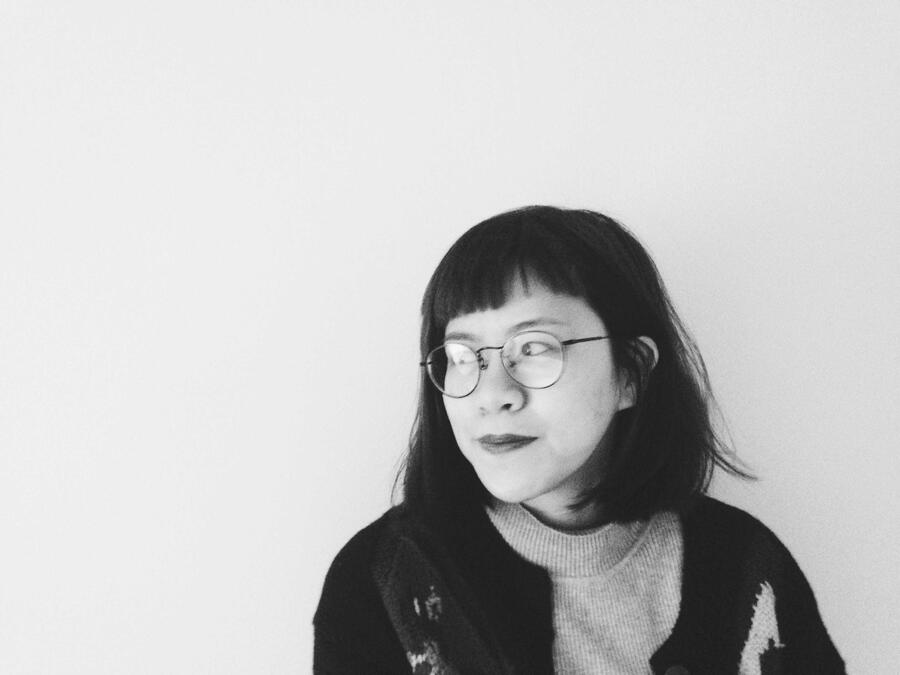 Wendy Wong 黃詠思
Former media worker, now embroidery artist, illustrator, theatre critic and multifunctional dogsbody. Established Morning Bird Collectables in 2021, selling antiques and selected items, running an online gallery The Nest at the same time.

前傳媒人,現為刺繡師、插畫師、劇評人及多功能打雜。2021年開設「早鳥」售賣古董及選物,同時經營線上畫廊The Nest。

Established in May 2021, Macau online gallery THE NEST is an art platform under Morning Bird Collectables, which dedicated to curating local art exhibitions and selling affordable artworks.

澳門線上畫廊 THE NEST 成立於2021年5月,是「早鳥古董 ‧ 選物店」旗下的藝術平台,致力策劃本地藝術展覽及售賣可負擔的藝術品。
---
©2021 by 早鳥 Morning Bird Collectables & THE NEST Gallery.|Photography by Cathie Lam.|Q&A text translation by Tony Lai.